Christmas Sale
With Christmas just around the corner, enishi is offering a 10% discount on all products in our Christmas Sale. Please take advantage of this opportunity to make your purchases.
About us
"enishi" is Old Japanese and expresses a relationship of destiny between people. enishi is a shop for Japanese antiques and the exhibition and sale of artists work.
*The meaning of regeneration is embedded in all of our products. From now on, we are not expected to create new things, but to regenerate and utilise the good old ones.
Antiques - revival of old objects
Fashion - regeneration of old fabrics.
precautions
*The items in the antique section are antiques that are decades or centuries old. Unlike new items, we do not provide detailed indications of blemishes, stains, scratches, cracks, warping, etc., which fall within the scope of "taste". Please check the photos to understand the characteristics of the antique/vintage item and confirm the condition before placing an order. In addition, product images may differ depending on the shooting conditions and computer environment.
*The fashion section is handmade by Yumiko Kawatsura using old fabrics and kimonos, and is a unique and original product. We try to show every detail in the photos, but please understand that the product images may differ depending on the shooting conditions and the computer environment.
*If the customer wishes to return the goods, the customer must do so within 14 days of receipt of the goods. The customer is responsible for shipping costs in this case. Please understand this in advance.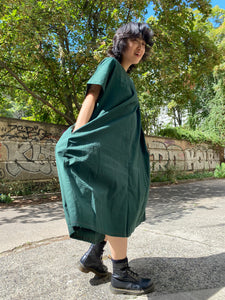 Welcome to enishi berlin
Hello, I'm Maki Kawatsura. I would like to introduce our shop.
I have been working in the food industry for more than 10 years since I was in Japan, and have been working here in Germany since 1996, first in Düsseldorf and then in a Japanese restaurant in Berlin. I have been working in Japanese restaurants since 1996, first in Düsseldorf and then in Berlin. However, I am also interested in Japanese antiques and antiquities, which I have been familiar with since I was a child. I was blessed with many customers at the store and enjoyed spending time there every day, but due to recent circumstances, I have closed the store.
From now on, we will sell clothes, bags, knickknacks, and other valuable antique items made from my mother's handmade old fabrics, mainly through this online store. All of our products are meant to be reborn, and all of my mother's handmade pieces are one-of-a-kind, one-of-a-kind, and reborn from old fabrics.
Antiques, as you know, are reproductions of old items.
The items we sell online are small enough to be shipped to you.
All the items we sell online are sent from Japan to Berlin and then delivered from Berlin to you.
We hope that you will be able to hold the good old things in your hands and feel the time.
Thank you so much, and enjoy the shopping.